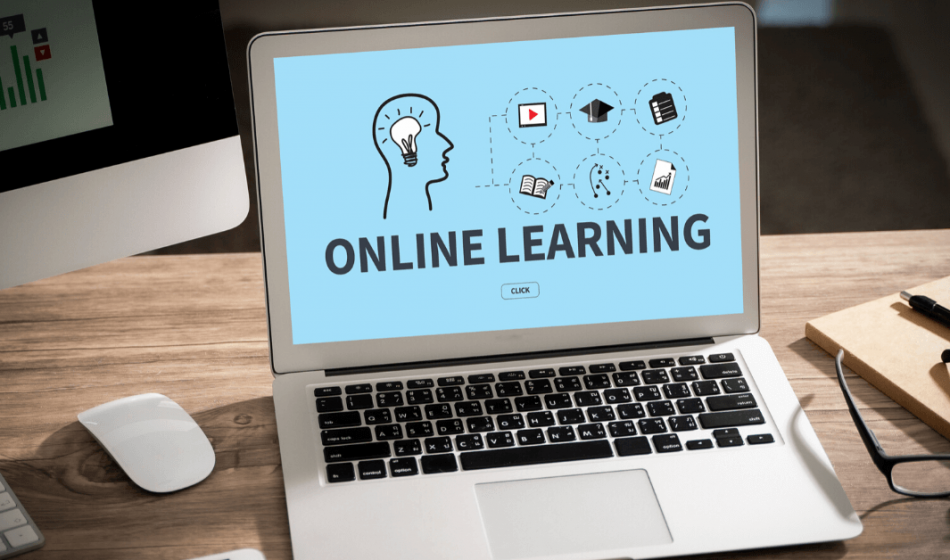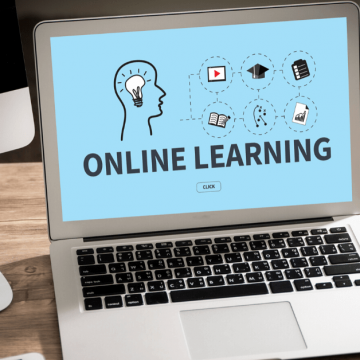 [Infographic] Is Online Training Right for Your Team?
With the world and technology changing faster than ever, it's no secret that the need for professional development will only continue to increase. According to a report by Deloitte, "People now rate the 'opportunity to learn' as among their top reasons for taking a job, and business leaders know that changes in technology, longevity, work practices, and business models have created a tremendous demand for continuous, lifelong development."
For some organizations, the time and costs associated with corporate training and development is not viable. So, whether your organization is looking to limit travel costs, connect employees across a wide geographic area, or simply provide a more flexible learning option, online training may be viable for your team's professional growth.
In this article we are sharing five ways you and your team can benefit from participating in training online, versus traditional in-person engagements. Download the infographic below to share with your team as you assess your training options.
1.Flexibility and Efficiency
Online corporate training programs offer participants the unique opportunity to work at their own pace, when and where works best for their circumstances. This means they can create their own schedule and carve out time when they learn best – whether it's first thing in the morning, at night after their workday is complete, or during the day with the permission of their supervisor. Plus, without the need to drive to a physical classroom, participants can choose a location that works best for them such as their home, your office, or even in their car or bus commuting to or from work.
Key Takeaway: Flexibility empowers and encourages participants to become more efficient.
2.Online Interaction
Online training programs don't just offer immediacy for educational content and tools – many include discussion forums or other online opportunities to connect with peers and instructors. This means participants can ask questions as they go, share experiences and hear from others going through the same program. Without having to wait between sessions, they'll receive an enriched educational experience with tools and teachings that can be applied immediately.
Key takeaway: Benefit from connecting with others for an enriched educational experience.
3.Understanding and Retention
Application and feedback ensure a deeper understanding of what participants learn and drive retention. With tools at the ready, they can apply learnings immediately and work through their thoughts and questions in live time, online. And, online interaction provides that quick feedback.
IBM claims that it "saw $30 in increased productivity" for every dollar spent on online training. They did not attribute the increase to employees returning to their desks faster – instead they noted the gains "came from the ability of employees to apply their newly acquired skills straight away."
Additionally, by participating online, employees benefit from the ability to go back and access the program at their leisure. They may also download and keep the tools and worksheets to use and share with their colleagues.
Key Takeaway:  Increase effectiveness by applying newly acquired knowledge and skills right away.
4.Variety of Delivery
One key benefit of participating in online training is the ability to find a program that caters to a participant's learning style and preferences. Gone are the days of "one size fits all." With so many options, and no limit on geographic location, they can decide whether they want to learn on their own or in a group. And when choosing a program with limited enrollment, participants receive a personalized experience and quality time with the instructor.
With a wider variety of deliveries and options, participants can find a program to meet them exactly where they are in their professional development journey. And, they have the ability to choose the program style that fits their preference, whether that's live learning sessions with online content, or programs that use a variety of media including quizzes, books, worksheets and videos.
Key Takeaway: With endless options, there's a program for every learning style and preference.
5.Cost Effectiveness
The flexibility and efficiency of online corporate training creates a cost-effective model.  By using time more productively, participants' workday becomes even more impactful. And, by eliminating travel time, they're able to use your time more effectively.
Online training also creates the ability to connect employees across geographic locations and provide a shared experience for remote teams, without the travel and lodging costs associated.
Key Takeaway: Use time more effectively to make your money go further.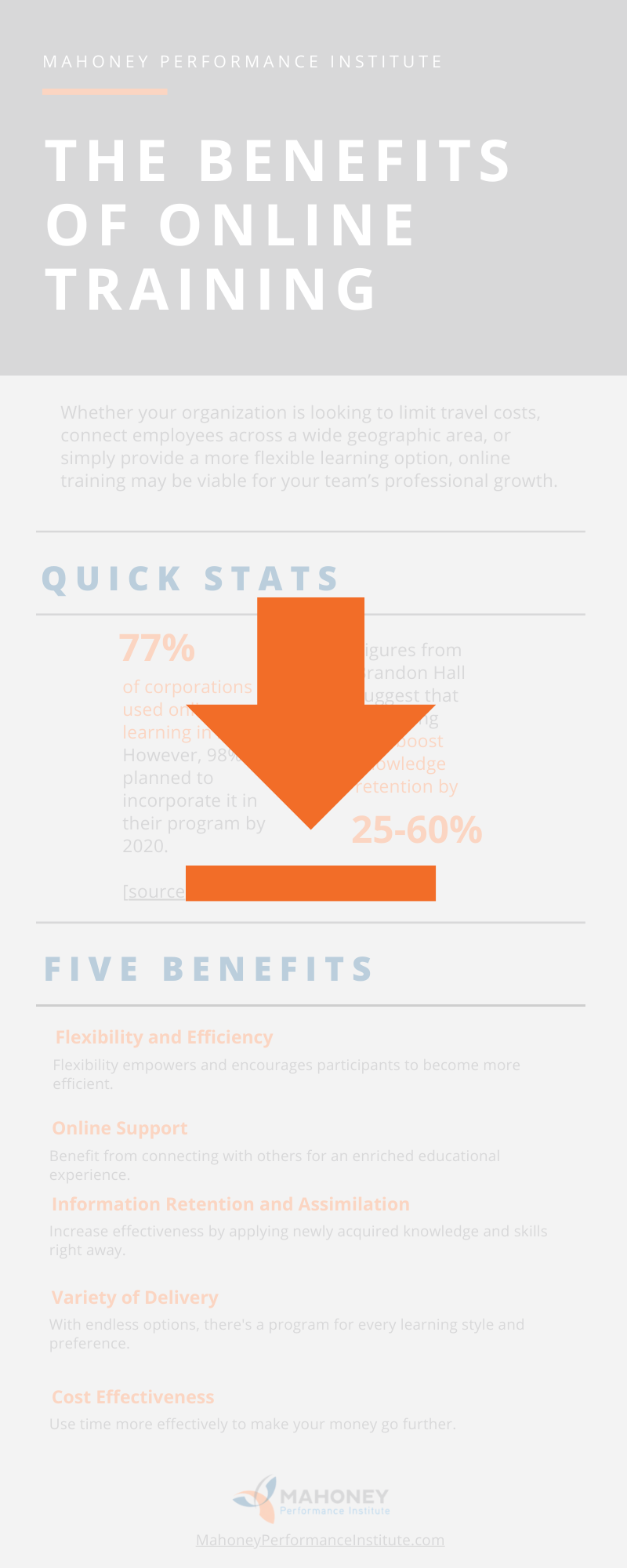 Is an online corporate training program right for me?
With 90% of corporations using e-learning, you're not alone in your interest to learn outside of a "traditional" classroom. If you're committed to developing your team, online training may be the solution.
The MPI team is here to answer any questions you may have regarding online training – we're here to help your organization grow and succeed.